Nest Pro Certified!
October 6, 2017 | Posted in Uncategorized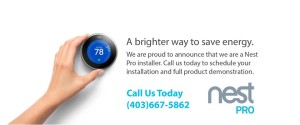 Nest Thermostats keep you comfortable when you're home. It turns itself down when you're away. With proven energy-saving features, it can pay for itself in less than two years. And with the Nest app, you can change the temperature from your phone, laptop or smartwatch.
A Better Way Plumbing is excited to add NestPro to our long list of certifications and qualifications.
Did you know that when you have a NestPro Technician install your Nest products you not only get professional looking installation for your home but you also get a full live demo and walk through on your new product as well as a FREE upgrade to a 5 year warranty instead of 2?
Call today to add a Nest Thermostat to your home!